What Are Shower Steamers? Your Luxury Guide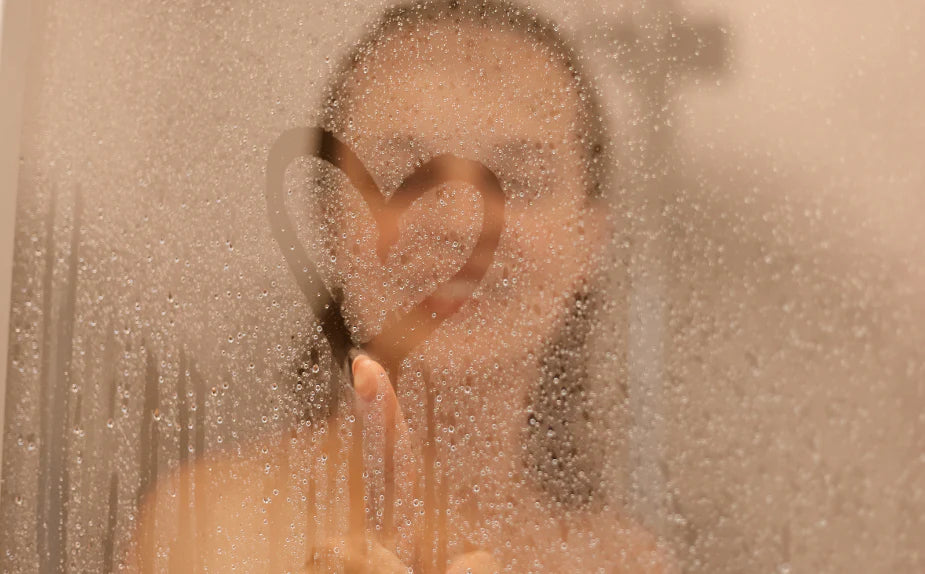 If this is your first time hearing about shower steamers, it won't be your last.
Shower steamers have become an internet sensation and a self-care must-have. 
But what are these fizzies, and why do you need them for your shower routine?
Shower steamers were born from the same ingenuity that birthed bath bombs—infusing essential oils into shower products. Previously, masseuses used essential oils in saunas to reduce tension and relieve stress.
The basic definition of self-care is maintaining a healthy relationship with yourself. Or, as fashion designer Diane Von Furstenberg said, "You're always with yourself, so you might as well enjoy the company."
Imagine yourself in a spa with the most beautiful aromatic scents floating around you. Splendid, right? 
How about replicating this experience in your bathroom?
Incorporating shower steamers into your shower routine helps you:
Manage stress and anxiety
Indulge in pleasant self-care
Kickstart your day the right way
Ease headaches and chest complications
How Shower Steamers Work
Shower steamers are packed into sizable tablets that fizz when they come in contact with water to release aromatic smells that soothe, relax, and rejuvenate.
The fizzing effect is caused by the reaction between citric acid and sodium bicarbonate (baking soda).
Hot showers release steam that enhances the scents produced by the essential oils present in the shower steamers.
What Is the Difference Between Shower Steamers and Bath Bombs?
The differences between bath bombs and shower steamers are vast and not to be ignored.
The essential oils infused in shower steamers are more concentrated than those in bath bombs and might irritate your skin.
A bath bomb is placed in a bath, dissolving to release invigorating scents, while a shower steamer is placed away from the direct shower stream (the indirect water spray will activate the steamers). Shower steamers use an innovative slow release of aromas and fragrances to prolong the experience.
In short, do not use a shower steamer in the place of a bath bomb. 
Shower steamers are a bather's best friend since they replicate the exhilarating experience of baths for showers. It is recommended that you use a shower steamer at least three times a week. A single tablet will last about half an hour.
Types of Shower Steamers
Picture this: You're home alone with no work obligations or commitments. It's just you and your preferred luxury shower steamer. Say grapefruit is your scent, or perhaps you prefer a dash of eucalyptus.
PurelifeBiotics has a wide range of shower steamers, guaranteeing you the most revitalizing shower experience. And it just gets better with the following options:
Citrus - Our citrusy luxury shower steamers contain grapefruit, oranges, and tangerine.
Flowers - Our flowery luxury shower steamers contain lavender.
Woods & Greens - Our woody luxury shower steamers contain eucalyptus and peppermint.
Most of our shower steamers are infused with a touch of refreshing menthol.
Let's go through a few products and their main features.
1 - Citrusy Luxury Shower Steamers
Best For: Relaxing, mood-enhancing, and aromatherapy
Shower steamers infused with citrus essential oils are best for that post-workout shower or before your massage.
Citrus fruits have a tangy, zesty aroma that's generally uplifting. The bright hues of orange and yellow radiate summer vibes. 
Further, some citrus essential oils, such as orange, lemon, and lime, help work up an appetite, especially for individuals suffering from food disorders.
The table below shows our citrusy shower steamers, their ingredients, and the available tablet shapes:
| | | |
| --- | --- | --- |
| Citrus Luxury Shower Steamer | Ingredients | Tablet Shape |
| Citrus Bliss | Orange, tangerine, and tea tree | Square |
| Calm Me | Orange, tangerine, and tea tree (infused with menthol) | Square, roses, and sports |
| Rejuvenate | Grapefruit, bergamot, and tea tree | Square |
| Grapefruit Glory | Grapefruit, bergamot, and tea tree (infused with menthol) | Square and roses |
Main Ingredients of Our Citrus Luxury Shower Steamers
Orange - Drawn from the sweet orange's rind, orange essential oils are super stress relievers. Exposure to our orange oil-infused shower steamers will reduce cortisol levels, a stress-inducing hormone. Consequently, complications such as anxiety or high blood pressure are significantly reduced.
Tangerine - If you need that power nap urgently or it's bedtime, consider taking a shower using our shower steamers infused with tangerine essential oils. Tangerine essential oils have a more intense aroma compared to orange essential oils.
Grapefruit - Inhaling grapefruit helps reduce hunger pangs and cravings; a gem for individuals seeking to lose weight. Studies have proven that aromatherapy using grapefruit essential oils helps reduce abdominal fat in postmenopausal women.
Bergamot - This is where the famous Earl Grey tea gets its distinct citrusy flavor. A bergamot is as big as an orange and green as a lime. Its use as an essential oil gives off a pleasant, floral smell that's aromatic and calming. Bergamot is a close comfort during bouts of depression or periods of grief.
"Strong essential oil smell, very relaxing. Start the shower and enjoy pure bliss."
2 - Flowery Luxury Shower Steamers
Best For: Calming, soothing, and healing
We recommend our fantastic floral shower steamers for a special indulgence. Floral shower steamers are relaxing and healing, like flower baths, which are very popular on Instagram.
The following table shows which ingredients make up our beloved floral shower steamers and the shapes of the tablets they come in:
| | | |
| --- | --- | --- |
| Flowery Luxury Shower Steamer | Ingredients | Tablet Shape |
| Lemon Allure | Lemon, lavender, and tea tree | Square and roses |
| Sleepy Time | Lavender (infused with menthol) | Square and roses |
| Restore | Lemon, lavender, and tea tree | Square |
| Relax | Lavender | Square |
Main Ingredients of Our Flowery Luxury Shower Steamers
Lemon - Lemon oil stimulates the mind and lifts your spirits when you're feeling down. Inhaling lemon oil scents during your shower will boost your cognitive abilities. In addition, lemon oil can help reduce morning sickness in pregnant women.
Lavender - Lavender oil is an anxiolytic that eases stress and anxiety and can relieve depression and menstrual cramps. It's also anti-microbial and anti-inflammatory, so your skin will be safe and protected.
Tea tree - Tea tree oil treats acne, athlete's foot, and persistent coughs. What's more amazing is that tea tree oil works as a deodorant by fighting off bacteria that cause bad odor. So if you are considering that road trip, carry a packet of Lemon Allure or Restore.
"Refreshing!"

- Kara P.
3 - Woods & Greens Luxury Shower Steamers
Best For: Outdoor and natural experience, medicinal purposes
Our woody luxury shower steamers give you an elegant, musky, and sensual scent. The menthol infused in these steamers has innumerable medicinal benefits for headaches and joint pains. 
These steamers will automatically turn your normal shower experience into a refreshing outdoor adventure.
Explore some of the ingredients and tablet shapes of our luxury woody shower steamers:
| | | |
| --- | --- | --- |
| Woody Luxury Shower Steamer | Ingredients | Tablet Shape |
| Breathe | Peppermint and eucalyptus | Square, roses, and sports |
| Deep Breath | Lavender (infused with menthol) | Square |
| Spa Day | Eucalyptus (infused with menthol) | Square, roses, and sports |
| Revive | Eucalyptus (infused with menthol) | Square |
Main Ingredients of Our Woody Luxury Shower Steamers
Peppermint - Peppermint essential oil has a cool and refreshing effect on your skin. When blended with menthol, it clears out sinus infections and relieves headaches. 
Eucalyptus - Eucalyptus oil is both a sedative and an antiseptic, so you're guaranteed a calming, sleepy effect, perfect for your night-time routine. It also helps alleviate sore throat and chest complications.
Peppermint and eucalyptus blend - Our Breathe and Deep Breath luxury shower steamers blend peppermint and eucalyptus, which can help refresh dry, sunburnt, or irritated skin. 
Pro tip: Eucalyptus oil must always be diluted, as its concentration may be sensitive to the skin. Always place shower steamers on the shower ledge or in a mesh pouch away from direct skin contact.
"This is so beneficial for your sinuses! I sent some to my daughter [s] … they both rave on how it opens up their sinuses, and it smells so good."

- Kara P.
What Our Shower Steamers Are Best For
We've curated the best luxury shower steamers for all your needs. The following table will help narrow down your options:
| | |
| --- | --- |
| Best For | Luxury Shower Steamer |
| A restful night's sleep | Sleepy Time |
| Kickstarting your day | Grapefruit Glory |
| Soothing | Breathe |
| Spa-like experience | Spa Day |
| Stress reliever | Lemon Allure |
So, there you have it. 
We've got a shower steamer for whichever mood you're in, whether playful, romantic, or sad. 
We even have a shower steamer to help get rid of your hangover. 
Which luxury shower steamer do you feel fits your mood currently?
Share on Facebook: